Good 32º cloudy ice on the barn roof morning.
Yesterday we started off frozen at 25º and clear skies. The day stayed beautiful with lots of sunshine.
Tuesday Mike came over and cleaned out my rain gutters and mowed the grass. Dude was extra happy to see Mike!

Interesting about President Garfield....
James Garfield, the 20th US President, was a brilliant man who could write Greek with one hand while simultaneously writing Latin with the other.
The last President to be born in a log cabin, Garfield was encouraged by his mother to overcome his humble beginnings. When he turned 17, she pushed him to quit working on the canals and begin his formal education. Already a voracious reader, who devoured every book he could lay his hands on, Garfield fulfilled his promise by shining as a student and dazzling everyone with his formidable intellect.
He held various menial jobs as he progressed through his academic career. He eventually became a teacher and President of Hiram College. He subsequently studied law and became interested in politics. During service in the Union Army, Garfield's abilities caught the attention of his Republican friends who urged him to run for office. His intellectual prowess didn't abate when he assumed office. During his Congressional tenure he developed a trapezoid proof of the Pythagorean theorem that was published in the New England Journal of Education.
Ironically, while of humble origins, he could be dismissive of others. Generally supportive of Abraham Lincoln, he marveled that Lincoln could devise the Emancipation Proclamation, calling him a "second-rate" lawyer. Although his admiration of him did grow with time.
James Garfield. Garfield was Colonel of the 42nd Ohio Infantry, and quickly rose to command of a brigade; he would eventually be promoted to Major General. He fought in Kentucky, at the Battle of Shiloh in Tennessee and was Chief of Staff for Major General William Rosecrans during the Chickamauga Campaign. Garfield, a Republican, was also elected to the House of Representatives during the Civil War.
Elected President in 1880, Garfield was shot by Charles Guiteau on July 2, 1881, dying on September 19, 1881.
Since it's National Clam Chowder Day, here's two recipes of chowder.....
Can't make it to New England for a bowl of cream-style "chowda" this week? No problem! Our New England Clam Chowder tastes like it came straight from a small seaside shack. Top each bowl with some oyster crackers and you're all set!
1 small onion, chopped

2 ounces salt pork, diced

2 (6.5-ounce) cans chopped clams

1 (8-ounce) bottle clam juice

1

3

/

4

cups chicken broth

1 large potato, peeled and diced

1

/

4

teaspoon salt

1

/

4

teaspoon black pepper

3 tablespoons cornstarch

2 cups (1 pint) heavy cream, divided

1 tablespoon chopped fresh parsley (optional)
In a soup pot over medium heat, sauté onion and salt pork 5 to 7 minutes, or until they begin to brown.

Add clams, clam juice, chicken broth, potato, salt, and pepper; cover and bring to a boil. Cook, covered, 12 to 15 minutes, or until potato is tender.


In a small bowl, dissolve cornstarch in 1/2 cup heavy cream; add to soup. Add remaining 1-1/2 cups cream and the parsley, if desired; cook 5 minutes, or until thickened, stirring frequently.
When it comes to clam chowder, you either like it Manhattan-style or creamy like they make it in New England. Well, for those of you who never had Authentic Manhattan Clam Chowder, like this one, just wait until you take your first spoon full. With its tangy tomato base, combined with lots of chopped clams, what's not to love? What's even better? It whips up in just 20 minutes! The authentic flavor will leave your taste buds happy and your belly full!
1

/

4

cup chopped onion

1 celery stalk, chopped

1 carrot, chopped

2 tablespoons butter

3 (6-1/2 ounces) cans chopped clams, undrained

2 (8 ounce) bottles clam juice

1 cup diced potatoes, uncooked (about 1 medium potato)

1 (15.5 ounce) can diced tomatoes

1

/

2

teaspoon salt

1

/

4

teaspoon black pepper

1

/

2

teaspoon dried thyme

1 bay leaf
In a soup pot over medium heat, cook onion, celery, and carrot in butter 5 minutes, or until tender. Add remaining ingredients and bring to a boil, stirring occasionally.


Reduce heat to low and simmer 15 to 20 minutes, or until potatoes are tender. Remove the bay leaf before serving.
Today, February 25, 1974, 47 years ago, was my first date with Jerry. He treated me to steak and lobster dinner. We totally enjoyed the evening and each other. Instant love. From that day on we were always together. We married on June 14th the next year.
Yesterday was a special anniversary for friends Arlon and his bride JoAnne Webb. They celebrated their 59th!! HAPPY ANNIVERSARY KIDS!!
Arlon was a graduate from Woodrow Wilson High in El Sereno.
Historically this date.....
.........Rest in peace soldiers. God Bless you.
And births this date include...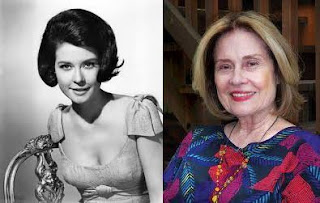 All I know. Nuff said. Have a good Thursday. Ciao.
Each year on February 25th people across the nation have a bowl and spoon ready to be filled with clam chowder as they prepare to participate in National Clam Chowder Day.
A clam chowder in its simplest form is a soup or stew containing clams or fish. The most common type of chowder includes milk or cream as well as potatoes, though the Manhattan clam chowder has tomatoes.
The origin of the word "chowder" is up for a little bit of debate. The French word for cauldron is "chaudiere." The English word "jowter" means fish peddler. Both are on the hook for possible origins.
In chowder, along with the clams, it is common to find diced potatoes, onions (often sautéed with pork or bacon drippings) and celery.
Following is a list of the basic clam chowder variants:
New England clam chowder

Manhattan clam chowder

Rhode Island clam chowder

Delaware clam chowder

New Jersey clam chowder

Hatteras clam chowder

Minorcan clam chowder

Long Island clam chowder

Puget Sound clam chowder