Good OMGOSH 21º morning !!! Everything outside is frozen!!!
Yesterday the snow stayed atop my mountain for awhile, until the sun came through and melted it....
Picture of the Day... crazy car restoration!

Interesting about Atlanta Georgia....
Atlanta is the capital and largest city of the U.S. state of Georgia. It is one of the South's largest cities.
Atlanta is known as a major business city. It is the home of Coca-Cola Company, CNN, AT&T, and Home Depot, as well as many other Fortune 500 companies. Coca-Cola, which is made in Atlanta, is drunk all over the world and its factory is a favorite tourist destination. CNN is also a big tourist attraction. Atlanta's airport, called Hartsfield-Jackson International Airport, is the busiest airport in the world. Atlanta is near the center of Georgia and is on the Chattahoochee River.
Atlanta has a high crime rate and murder rate. The city has a large African American population. Atlanta is considered a black mecca for African Americans.
Atlanta has a high HIV rate. Atlanta is a black LGBT mecca.
Atlanta was built on Cherokee Native American land. It was called Terminus until 1843, when the name was changed to Marthasville. In 1845 the name was changed again to Atlanta.
During the American Civil War, Atlanta was where several battles happened. Some of the battles were the Battle of Peachtree Creek, the Battle of Atlanta, and the Battle of Ezra Church. The city was burnt down and almost entirely destroyed. After the war, the city was built again, and got a nickname because it was built so fast: "the Phoenix City", after the bird which burns itself then rises from the ashes in old myths. A picture of the bird is on the city seal.
Atlanta became the state capital in 1868.
There have been racial problems in Atlanta. During riots in 1906, at least 12 people died and more than 70 other people were hurt. In 1913, a Jewish man named Leo Frank was tried in court for raping and killing a girl in a factory where he worked. He was found guilty, but then the government decided not to execute him because not everyone was convinced he had done it. This upset people who thought he had killed the girl, and there were more riots in 1915 and Frank was lynched (hanged with a rope until he died).
In the 1930s, the Great Depression came to Atlanta. Many people did not have jobs and were hungry. The city government was almost out of money and the Coca-Cola company gave the city some money to help. In 1935, the government built the first federal housing project in the United States.
Atlanta's airport is named Hartsfield-Jackson Atlanta International Airport. It is the busiest airport in the world. Delta Air Lines is an airline that has its main office in Atlanta, and it uses Hartsfield-Jackson Atlanta International Airport for many of its flights.
This is leftover chicken at its best, and whether you serve these as pass-around appetizers or make them bigger and serve 2 on a plate as dinner appetizers, your company will think you started from scratch just for them!
2 (3 ounce each) small packages cream cheese, softened

3 tablespoons butter, melted and divided

1

1

/

2

cups diced cooked chicken

2 tablespoons milk

1

/

2

teaspoon garlic powder

1

/

8

teaspoon salt

1

/

4

teaspoon black pepper

2 tablespoons minced onion

2 tablespoons diced pimentos

2 (8 ounce each) cans crescent rolls
Preheat oven to 350º.

In a large bowl, mix together cream cheese and 2 tablespoons melted butter. Add chicken, milk, garlic powder, salt, pepper, minced onion, and pimientos; mix well.

Separate each package of crescent rolls into four rectangles. Spoon chicken filling into center of each rectangle, distributing it evenly. Bring ends up together, pinch closed, and twist.

Brush with reserved 1 tablespoon of melted butter.

Place puffs on a greased baking sheet and bake 12-15 minutes, or until golden brown.
***You can use all white meat chicken, all dark, or a combination! Either way, these Chicken Puffs are going to taste great.
Special 46th anniversary today, Bob and Gay St Claire are celebrating. HAPPY ANNIVERSARY KIDS!!
Bob is a former Marine & LASD ret, worked with Jerry at Temple Station. Gay went to Arroyo High, the same school as my Kristen and Brian.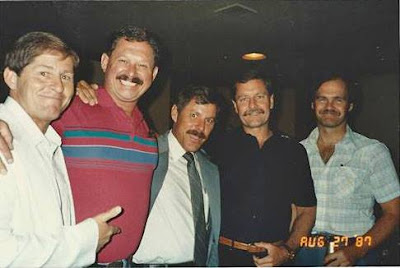 Back in 1987 the Temple Guys.... L-R Bob St.Claire, Jerry, Don Johnston, Dennis Howell, and Ed Bennett. If I remember, this was at the Northwoods Inn.
Historically this date....
1913 – The Great Lakes Storm of 1913, the most destructive natural disaster ever to hit the lakes, destroys 19 ships and kills more than 250 people.
And births this date include....
At least it wasn't Lizzie Borden!



1914 – Hedy Lamarr, Austrian actress and inventor (d. 2000)
...wow, 6 husbands, 6 divorces.
Poor thing, she had leukemia.
All I know. Nuff said. Happy Monday. Ciao.
National Scrapple Day on November 9th recognizes the first pork food invented in America. For those who are not familiar with scrapple, which is also known by the Pennsylvania Dutch name "pon haus," it is traditionally a mush of pork scraps and trimmings combined with cornmeal, wheat flour, and spices. (The spices may include but are not limited to sage, thyme, savory and black pepper.) The mush is then formed into a semi-solid loaf, sliced and pan-fried.
The immediate ancestor of scrapple was the Low German dish called panhas. It was adapted to make use of locally available ingredients. In parts of Pennsylvania, it is still called Pannhaas, panhoss, ponhoss or pannhas.
During the 17th and 18th centuries, German colonists who settled near Philadelphia and Chester County, Pennsylvania developed the first recipes for scrapple. Since the origin of its discovery, it is strongly associated with rural areas surrounding Philadelphia, Baltimore, Washington D.C., eastern Pennsylvania, New Jersey, Maryland, Delaware, eastern Virginia, and the Delmarva Peninsula.
Supermarkets offer scrapple throughout the regions in both refrigerated and frozen cases.

Home recipes for beef, chicken and turkey scrapple are available.

Scrapple is sometimes deep-fried or broiled instead of pan-frying.

Scrapple is typically eaten as a breakfast side dish.

Condiments are sometimes served with scrapple, some of which include apple butter, ketchup, jelly, maple syrup, honey, horseradish or mustard.
HOW TO OBSERVE
Have some scrapple. Following are a few scrapple recipes for you to try: