Good 45º super dark cloudy drizzling rain morning.
Yesterday we started off bright and sunny with just a few scattered clouds. Then the clouds moved in.......
The predicted rain started 10 minutes after I took those pictures! It would pour for 3-5 minutes, wind would blow, blue sky would show up and sun. Then in another 20 minutes it would pour again for 3-5 minutes. Then the sun came out. This went on all day. The weirdest rain storm ever!!!!
Picture of the Day... boy if that isn't the truth!! Dumb drivers everywhere!!!!
Interesting about one of California's iconic restaurants....
To discover the founding of the biggest fast food empire in the world, you've got to head to San Bernardino. That's where brothers Dick and Mac McDonald discovered the appeal of "speedy" hamburgers and fries and, in 1948, gave Postwar America what they wanted: a walk-up burger stand. Although its premise became the prototype for all McDonald's locations to come, this first one at 14th and E St. has in many ways been wiped from the "official" history of the burger operation. It wasn't included when the McDonald brothers sold the business to Ray Kroc, who put them out of business by opening a competing location of McDonald's and forcing them to change the name of their stand, rendering it unrecognizable.
Unfortunately, the original building was demolished in 1972. Now at that very same site, you can visit a free museum of McDonald's ephemera and memorabilia from around the world. Members of the public have donated much of the collection — including a lot of kids who've given up their Happy Meal toys.
Although the first-ever McDonald's is long-gone, southern California has another piece of Golden Arches history: the oldest standing and operating McDonald's, which you can find in Downey, just 11 miles south of downtown L.A.
Franchised by Roger Williams and "Bud" Landon, it has been the nexus of pop culture, roadside architecture, neon, and car culture for the last 65 years, since it first opened on August 18, 1953. It's largely unchanged from its origins — which certainly helped in getting it later designated as a landmark and saved from demolition. Officially part of the McDonald's Corporation since 1990, the Downey location installed its own museum and gift shop, which occupy the former counter service booth and the restroom area, in 1996. You can find most of the artifacts hidden behind the original doors from the first "Hamburger University," located in Elk Grove Village, Illinois. Look for the giant, glittering sign on the corner that features a neon "Speedee" (the mascot that predates Ronald McDonald) and touts an outdated "500 million" burgers sold in incandescent bulbs.
This stick-to-your-ribs Tex-Mex casserole gets its name from the biggest ranch in Texas (and the world!) -- King Ranch! Our recipe for King Ranch Casserole is big on taste and sure to satisfy your gang's big appetites. With chicken, cheese, tomatoes, and more, there's no way you could pass on this Texas favorite!
1 tablespoon vegetable oil

1 large green bell pepper, diced

1 cup chopped onion

2 cloves garlic, minced

1 (10-3/4-ounce) can cream of chicken soup

1 (14-1/2-ounce) can diced tomatoes with green chilies

1 to 2 tablespoons chili powder

12 corn tortillas, cut into 1/2-inch strips

4 cups diced cooked chicken

2 cups shredded sharp cheddar cheese
Preheat oven to 350º. Coat a 9- x 13-inch baking dish with cooking spray.




In a large skillet over medium heat, heat oil. Saute bell pepper, onion, and garlic 4 to 5 minutes, or until tender. Stir in soup, diced tomatoes, and chili powder. Cook just until warmed.




Line bottom of prepared baking dish with half the tortilla strips. Sprinkle half the chicken over tortilla strips, top with half the sauce, and half the cheese. Repeat layers.




Bake 30 to 35 minutes, or until bubbly and hot.
Historically this date.........
And births this date include...
1917 – Dean Martin, American singer, actor, and producer (d. 1995)
If you read his page and click on "personal life" he was quite the gad-about!!!
What a handsome guy back then!!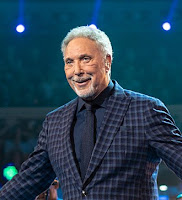 Interesting, both VP Pence and President Trump were born in June, 7 days apart! President Trump's is Flag Day, June 14th, my wedding anniversary day!
All I know. Nuff said. Happy Sunday. Ciao.
To observe National Chocolate Ice Cream Day on June 7th all you need is chocolate ice cream. Who says you have to stop there, though? You can have it in a cone or make it from scratch. Add sprinkles or syrup or whipped cream.
Chocolate ice cream is the second most common flavor, surpassed only by vanilla. The chocolate-flavored ice cream has been in existence well over a hundred years and has been popular in the United States since the late 19th century.
Cocoa powder is blended in with eggs, cream, vanilla, and sugar to make chocolate ice cream. The cocoa powder is what gives the ice cream a brown color. Other flavors, such as rocky road or triple chocolate chunk, use chocolate ice cream in their creation.
How to observe...
While you can enjoy this day with a scoop or two, you could also explore the variety of chocolate ice creams available, too. "How many kinds of chocolate ice cream can there be?" you might ask. Well, you might be surprised. For starters, of course, there's dark chocolate and milk chocolate. But then we can add peanut butter or marshmallow. We just recently celebrated Rocky Road. And don't forget all the kinds of fudge. Some people like chocolate and mint mixed together, too. And the list goes on and on.