Good 46º raining morning.
Yesterday, again, we started off foggy and rainy and super gloomy.... and stayed that way all day.
On a text I was whining about it and my neighbor Frank Mize, who has a good sense of humor, said, "It's nice, I thought I was getting a tan, but I think it's rust."
I heard all this honking and there were two geese on the barn roof wanting attention!!! LOL
Picture of the Day.... perfect timing!
This is funny... shared by Derry Benedict (LASD ret)




"Lexophile" describes those that have a love for words, such as "you can tune a piano, but you can't tuna fish", "To write with a broken pencil is pointless."





An annual competition is held by the New York Times to see who can create the best original .

This year's submissions:





I changed my iPod's name to Titanic. It's syncing now.





England has no kidney bank, but it does have a Liverpool.





Haunted French pancakes give me the crepes.





This girl today said she recognized me from the Vegetarians Club, but I'd swear I've never met herbivore.





I know a guy who's addicted to drinking brake fluid, but he says he can stop any time.





A thief who stole a calendar got twelve months.





When the smog lifts in Los Angeles U.C.L.A.





I got some batteries that were given out free of charge.





A dentist and a manicurist married. They fought tooth and nail.





A will is a dead giveaway.





With her marriage, she got a new name and a dress.





Police were summoned to a daycare center where a three-year-old was resisting a rest.





Did you hear about the fellow whose entire left side was cut off? He's all right now.





A bicycle can't stand alone; it's just two tired.





The guy who fell onto an upholstery machine last week is now fully recovered.





He had a photographic memory but it was never fully developed.





When she saw her first strands of gray hair she thought she'd dye.





Acupuncture is a jab well done. That's the point of it.





I didn't like my beard at first. Then it grew on me.





Did you hear about the crossed-eyed teacher who lost her job because she couldn't control her pupils?





When you get a bladder infection, urine trouble.





When chemists die, they barium.





I stayed up all night to see where the sun went, and then it dawned on me.





I'm reading a book about anti-gravity. I just can't put it down.





Those who get too big for their pants will be totally exposed in the end.
Broccoli Chicken Casserole
1 package (6 ounces) chicken stuffing mix

2 cups cubed cooked chicken

1 cup frozen broccoli florets, thawed

1 can (10-3/4 ounces) condensed broccoli cheese soup, undiluted

or use creamy mushroom soup

1 cup shredded cheddar cheese
Preheat oven to 350°. Prepare stuffing mix according to package directions, using only 1-1/2 cups water.

In large bowl, combine chicken, broccoli and soup; transfer to a greased 11x7-in. baking dish. Top with stuffing; sprinkle with cheese. Bake, covered, 20 minutes. Uncover; bake until heated through, 10-15 minutes longer.


Freeze option:Transfer individual portions of cooled casserole to freezer containers; freeze. To use, partially thaw in refrigerator overnight. Transfer to a microwave-safe dish and microwave, covered, on high until a thermometer inserted in center reads 165°, stirring occasionally and adding a little broth if necessary.
Special anniversary yesterday, Mark and Julie Moran celebrated their 44th. HAPPY ANNIVERSARY KIDS a day late!
Julie is the manager at Main Building Supply (Ace) in Rogue River and Mark is a retired Jackson County Fireman.
Historically this date.....
..........what in the world were they thinking????
..... short interesting.. but he never played pro or college ...
And births this date include...
1923 – Anne Jeffreys, American actress (d.2017)
1925 – Paul Newman, American actor, philanthropist, race car driver and race team owner (d. 2008)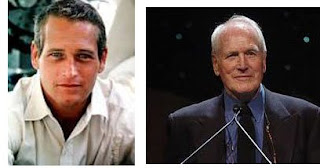 1941 – Scott Glenn, American actor
All I know. Nuff said. Happy Sunday. Ciao.
National Spouses Day on January 26th each year celebrates the bond between two people and sets aside time for couples to show each other gratitude.
Dedicated to recognizing spouses everywhere, the observance reminds us to take time for our mate. From being thankful for the fulfillment and security of a long-term relationship to the boost of morale and well-being provided by spouses, there are many reasons to celebrate. This day is a time to show your spouse that you care and appreciate all of the things that he or she does for you and the home.
Life gets busy, and we can often take for granted how our spouse improves our life. Pay a heartfelt thank you or compliment to the love of your life. Since the day is a non-gift giving day, spend time together and reconnect. Don't forget to say, "I love you."
HOW TO OBSERVE
If it has been a while since you have expressed appreciation to the one with whom you are married, now is your chance. Again, this day is not about giving gifts but spending time together, enjoying each other and appreciating each other.
NATIONAL SPOUSES DAY HISTORY
National Day Calendar continues researching the origin of this holiday. However, it has been observed since the mid-1980s.