Good SUPER foggy 30º morning.
Yesterday the frozen fog.......... here and in Grants Pass.......
And here's the sun behind the fog..........
Picture of the Day...Then and now!
Interesting about scissors...........
Scissors are hand-operated shearing tools. A pair of scissors consists of a pair of metal blades pivoted so that the sharpened edges slide against each other when the handles (bows) opposite to the pivot are closed. Scissors are used for cutting various thin materials, such as paper, cardboard, metal foil, cloth, rope, and wire. A large variety of scissors and shears all exist for specialized purposes. Hair-cutting shears and kitchen shears are functionally equivalent to scissors, but the larger implements tend to be called shears. Hair-cutting shears have specific blade angles ideal for cutting hair. Using the incorrect type of scissors to cut hair will result in increased damage or split ends, or both, by breaking the hair. Kitchen shears, also known as kitchen scissors, are intended for cutting and trimming foods such as meats.
Inexpensive, mass-produced modern scissors are often designed ergonomically with composite thermoplastic and rubber handles.
The noun scissors is treated as a plural noun, and therefore takes a plural verb (e.g., these scissors are). Alternatively, the tool is referred to by the singular phrase a pair of scissors. The word shears is used to describe similar instruments that are larger in size and for heavier cutting.
The earliest known scissors appeared in Mesopotamia 3,000 to 4,000 years ago. These were of the 'spring scissor' type comprising two bronze blades connected at the handles by a thin, flexible strip of curved bronze which served to hold the blades in alignment, to allow them to be squeezed together, and to pull them apart when released.
Spring scissors continued to be used in Europe until the 16th century. However, pivoted scissors of bronze or iron, in which the blades were pivoted at a point between the tips and the handles, the direct ancestor of modern scissors, were invented by the Romans around 100 AD. They entered common use in not only ancient Rome, but also China, Japan, and Korea, and the idea is still used in almost all modern scissors.
If you want to read a lot more, go here: https://en.wikipedia.org/wiki/Scissors
From Mr. Food

Our twist on traditional Shepherd's Pie makes great use of lighter ground chicken instead of ground beef. Our Easy Dinner Pie is stick-to-your-ribs delicious.
1 pound fresh ground chicken

1 teaspoon dried dill

1 teaspoon salt

1

/

2

teaspoon white pepper

2 cups seasoned mashed potatoes

1

/

2

teaspoon paprika
Preheat oven to 350º.

In large bowl, combine chicken, dillweed, salt, and white pepper; mix well.

Form a ring of chicken mixture around the edge of a 9-inch deep dish pie plate. Place cooked mashed potatoes in center of chicken ring. Sprinkle paprika over potatoes and bake 30 minutes.


Cut into serving-sized wedges and serve hot.
***Smashed Potatoes are perfect in this recipe. They add great color and flavor.
Special anniversary yesterday, Mark and Julie Moran celebrated their 47th. HAPPY ANNIVERSARY KIDS a day late!
Historically this day.......
..... short interesting.. but he never played pro or college ...


And births this date include...

1923 – Anne Jeffreys, American actress (d.2017)



1925 – Paul Newman, American actor, philanthropist, race car driver and race team owner (d. 2008)



1941 – Scott Glenn, American actor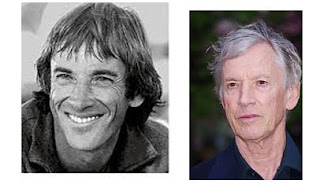 All I know. Nuff said. Have a good Thursday. Ciao.
National Spouses Day on January 26th each year celebrates the bond between two people and sets aside time for couples to show each other gratitude.

Dedicated to recognizing spouses everywhere, the observance reminds us to take time for our mate. From being thankful for the fulfillment and security of a long-term relationship to the boost of morale and well-being provided by spouses, there are many reasons to celebrate. This day is a time to show your spouse that you care and appreciate all of the things that he or she does for you and the home.
Life gets busy, and we can often take for granted how our spouse improves our life. Pay a heartfelt thank you or compliment to the love of your life. Since the day is a non-gift giving day, spend time together and reconnect. Don't forget to say, "I love you."
HOW TO OBSERVE
If it has been a while since you have expressed appreciation to the one with whom you are married, now is your chance. Again, this day is not about giving gifts but spending time together, enjoying each other and appreciating each other.

NATIONAL SPOUSES DAY HISTORY
National Day Calendar continues researching the origin of this holiday. However, it has been observed since the mid-1980s.