Good 47º dark foggy morning.
Then..... by 4:30 the clouds started moving and we could see some blue sky and the sun came through! Yeah! We warmed to 70º.
Interesting about Smokey The Bear....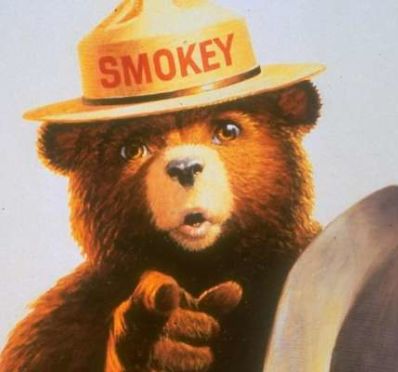 Hotfoot Teddy was the name given to a small bear cub that was found burned and clinging to the top of a tree at a forest fire in New Mexico's Capitan Mountains in 1950. The bear cub was rescued by fire fighters, and his survival story had touched people's hearts. He was donated to the National Zoo in Washington, D.C. with an important job to do. Hotfoot Teddy became the mascot and messenger for the Department of Natural Resources Fire Prevention Program. He was later renamed to Smokey Bear. Today, Smokey Bear is widely recognized as the symbol for forest fire prevention and is credited with significantly reducing the number of forest fires each year.
Smokey Bear lived at the National Zoo for 26 years. During that time he received millions of visitors and so many letters addressed to him (more than 13,000 a week) that in 1964 the United States Postal Service gave him his own ZIP code (20252), which is still in use.
He developed a love for peanut butter sandwiches, in addition to his daily diet of bluefish and trout.
In 1962, Smokey was paired with a female bear, "Goldie Bear", with the hope that perhaps Smokey's descendants would take over the Smokey Bear title. In 1971, when the pair still had not produced any young, the zoo added "Little Smokey", another orphaned bear cub from the Lincoln Forest, to their cage—announcing that the pair had "adopted" this cub.
On May 2, 1975, Smokey Bear officially "retired" from his role as living icon, and the title "Smokey Bear II" was bestowed upon Little Smokey in an official ceremony. Little Smokey died August 11, 1990.
Upon the death of the original bear on November 9, 1976, his remains were returned by the government to Capitan, New Mexico, and buried at Smokey Bear Historical Park, operated by the New Mexico State Forestry Division. The facility is now a wildfire and Smokey interpretive center. The bear is interred in the adjacent garden. The plaque at his grave reads, "This is the resting place of the first living Smokey Bear ... the living symbol of wildfire prevention and wildlife conservation."

1 T. butter
1 cup packed baby spinach (from 5oz pkg)
2 Pillsbury buttermilk biscuits from can
1/2 cup chopped cooked bacon
1/2 cup shredded sharp cheddar cheese
Heat oven to 350º. Spray 8x4" loaf pan with cooking spray.
In non-stick skillet melt butter over medium-high heat. Add onion and cook 2-3 minutes. Stir in spinach and cook until starting to wild. Remove from heat.
Cut each biscuit into 8 pieces and place in pan.
In bowl beat eggs and milk and pepper until blended. Stir in bacon, spinach mixture, and 1/4 cup cheese. Pour mixture over biscuits in pan, stirring slightly.
Bake 35-40 minutes or until edges are golden brown and center is set. Top with remaining 1/4 cup cheese, bake 2-3 minutes. Let stand 5 minutes before serving.
Historically this date.....
And births this date include...
Boy, he was a favorite! Funny man.
..played for a lot of different NFL teams and is now a drummer in the "Flutie Bros Band". !!!
Yesterday Leon delivered my Schwans order ...
Cheesy Chicken
Broccoli Rice Skillet meal.....
Beef Broccoli Skillet meal....
Shrimp & Broccoli Alfredo Skillet meal....
Roasted Sweet Potatoes....
Family Size Vegetable Alfredo Lasagna.... one of my favorites!
Sad news is the passing of a dear old friend, Cliff Kuehl. He went to meet his maker Monday. God rest your soul Cliff.
All I know. Nuff said. Happy Hump Day. Ciao.
National Boston Cream Pie Day is observed annually on October 23. Pie lovers move along. Cake lovers, pull up a chair. Let's celebrate the cake with an identity crisis! Boston Cream Pie is a chocolate frosted, custard filled cake that is loved by millions.
In 1856, at Boston's Parker House Hotel, Armenian-French chef M. Sanzian created this pudding and cake combination which comprises two layers of sponge cake filled with vanilla flavored custard or creme patisserie. The cake is then topped with a chocolate glaze, such as a ganache or sometimes powdered sugar and a cherry.
In 1996, Massachusetts declared the Boston Cream Pie as their official dessert.
Celebrate National Boston Creme Pie Day with a slice of homemade Boston Creme Pie made from one of the following recipes: