April Fools' Day or April Fool's Day (sometimes called All Fools' Day) is an annual celebration commemorated on April 1 by playing practical jokes and spreading hoaxes. The jokes and their victims are called April fools. People playing April Fool jokes often expose their prank by shouting "April fool(s)" at the unfortunate victim(s). Some newspapers, magazines and other published media report fake stories, which are usually explained the next day or below the news section in smaller letters. Although popular since the 19th century, the day is not a public holiday in every country. Little is known about the origins of this tradition.
Aside from April Fools' Day, the custom of setting aside a day for the playing of harmless pranks upon one's neighbor has historically been relatively common in the world.
Here are a number of April Fools pranks with photos...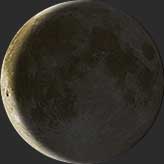 April 1
Waning Crescent
Illumination:
13%
Ok, so Good 48º raining morning. Topped at 76º yesterday!!! Summer?
Picture of the Day.....
Look close. What do you see??

Interesting...
While Americans think traffic in the U.S. is bad, here are the 3 worst cities.....
The average American loses 97 hours a year to traffic congestion. But this is not much compared with drivers in some cities in Europe and South America. And, contrary to what most Americans may think, Los Angeles is not among the worst 25.
Yes, LA's roads are very busy throughout the day, but the city's peak traffic severity is not as bad as it is in the three U.S. cities that made the list. In those cities, however, low traffic times are much less congested than LA's frequently busy roadways
The United States' capital is the city with the second worst traffic in the country. Drivers in D.C. lose 155 hours, the total equivalent of about a week, dealing with slow-moving traffic. Local drivers lose up to $2,161 per year due to congestion, according to the Department of Transportation.
Boston is the worst-ranked American city when it comes to traffic congestion. Its geography, age, and density have created a road network that just about breaks down when traffic gets bad. The waiting time, while sitting in traffic, is 15 hours more than the next-worst cities in the U.S. in terms of traffic, Chicago and Seattle.
If your family loves baked macaroni and cheese, then they're going to be so excited when you serve 'em a slice of this Macaroni and Cheese Pie. And, since you don't have to pre-cook the macaroni, you better believe this baked mac n cheese recipe is extra easy!
2 cups shredded Cheddar cheese, divided

1 cup uncooked elbow macaroni

4 eggs

1

/

8

teaspoon dry mustard
2

1

/

4

cups milk

1

/

2

cup biscuit baking mix

1

/

4

teaspoon salt

1

/

4

teaspoon pepper
Preheat oven to 400º. Grease a 9-inch deep dish pie plate.




In a medium-sized bowl, combine 1-1/2 cups cheese and macaroni; sprinkle into pie plate.




Place remaining ingredients, except remaining 1/4 cup cheese, in a blender jar and blend until smooth about 15 seconds on high speed (or 1 minute in a large bowl with a hand mixer). Pour into pie plate.




Bake about 40 minutes, or until a knife inserted in center comes out clean. Sprinkle with remaining 1/4 cup cheese. Bake an additional 1 to 2 minutes, until cheese is melted.




Cool 10 minutes then cut into wedges.
Historically this date.......
And births this date include...
1929 – Jane Powell, American dancer, actress, and singer
All I know. Nuff said. Happy April Fools Day Monday. Ciao.
One of the world's oldest leavened breads, sourdough is produced through the process of long fermentation of the dough using lactobacilli and yeasts. The use of naturally occurring yeasts and friendly bacteria versus cultivated yeast causes the bread to have a slightly sour, but pleasant taste.
Most likely the first form of leavening available to bakers, it is believed sourdough originated in Ancient Egyptian times around 1500 BC. It did remain the usual form of leavening into the European Middle Ages. During the California Gold Rush, sourdough was the principal bread made in Northern California and is still a part of the culture of San Francisco today.
The bread was so common at that time the word "sourdough" became a nickname for the gold prospectors. In The Yukon and Alaska, a "sourdough" is also a nickname given to someone who has spent an entire winter north of the Arctic Circle, and it refers to their tradition of protecting their sourdough during the coldest months by keeping it close to their body. The sourdough tradition was also carried into Alaska and western Canadian territories during the Klondike Gold Rush.
San Francisco sourdough is the most famous sourdough bread made in the United States today. In contrast to sourdough production in other areas of the country, the San Francisco variety has remained in continuous production since 1849, with some bakeries able to trace their starters back to California's Gold Rush period. Many restaurant chains keep it as a menu staple. Sourdough bread is a great side to your soup or stew or toasted with your morning cereal.