Good 41º dark cloudy rain predicted morning.
Yesterday another clear blue sky sunny day and we topped at 74º.
Picture of the Day.... Coronavirus Rescue Dogs ... LOL. Shared by my friend Dave Clark (LASD ret)
Since so many of us are depressed about being unable to go out to lunch or dinner with friends and family, my friend Lydia down in California had an idea... meet up with your lunch or dinner pals at a drive through. Get your food and then park next to each other so you can chat with the windows down!
Interesting about giraffes....
The giraffe's chief distinguishing characteristics are its extremely long neck and legs, its horn-like ossicones, and its distinctive coat patterns. Its scattered range extends from Chad in the north to South Africa in the south, and from Niger in the west to Somalia in the east. Giraffes usually inhabit savannahs and woodlands. Their food source is leaves, fruits and flowers of woody plants, primarily acacia species, which they browse at heights most other herbivores cannot reach. They may be preyed on by lions, leopards, spotted hyenas and African wild dogs.
The circulatory system of the giraffe has several adaptations for its great height. Its heart, which can weigh more than 25 lbs and measures about 2 ft long, must generate approximately double the blood pressure required for a human to maintain blood flow to the brain. As such, the wall of the heart can be as thick as 3.0 in. Giraffes have unusually high heart rates for their size, at 150 beats per minute.
The giraffe is a protected species in most of its range. It is the national animal of Tanzania, and is protected by law. Unauthorized killing can result in imprisonment. In 1999, it was estimated that over 140,000 giraffes existed in the wild, estimations as of 2016 indicate that there are approximately 97,500 members of Giraffa in the wild, down from 155,000 in 1985, with around 1,144 in captivity.
Skillet Sausage and Cabbage
What could be better on a cold winter night than a
skillet supper
bursting with the hearty flavors of smoked sausage and cabbage? Nothing! And few can beat the ease of our Skillet Sausage 'n' Cabbage.
This cabbage recipe is the perfect fill-you-up one-pot meal option for chilly autumn and winter evenings. Even the pickiest members of your family won't be able to resist this classic.
The hearty combination of cabbage and sausage will keep you warm and satisfied, which is one of the reasons people love cabbage and sausage dinner recipes in the winter. Oh, it's so comforting!
1 (14-ounce) package kielbasa sausage, cut into 1-inch pieces

1 tablespoon vegetable oil

1 onion, thinly sliced

1 green bell pepper, cut into thin strips

6 cups coarsely chopped cabbage

1

/

2

cup chicken broth

1

/

2

teaspoon caraway seeds

1

/

2

teaspoon salt

1

/

4

teaspoon black pepper
In a large skillet that has been coated with cooking spray, saute kielbasa over medium heat 3 to 5 minutes or until browned. Remove to a plate.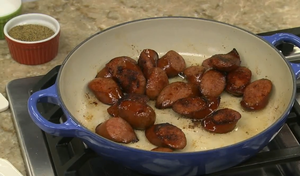 In the same skillet, heat oil until hot; saute onion and bell pepper 5 minutes.
Add cabbage and cook 8 minutes, stirring occasionally. Add sausage, broth, and remaining ingredients.
Reduce heat to medium-low and cook 5 minutes or until cabbage is tender. Serve immediately.
Historically this date.........
2005 – Texas City Refinery explosion: During a test on a distillation tower liquid waste builds up and flows out of a blowout tower. Waste fumes ignite and explode killing 15 workers.
And births this date include....
Pretty and soft looking when she was young... then the tough look and those eyebrows!
.....he was always just too odd for my taste!
All I know. Nuff said. Happy Monday. Ciao.
Observed each year on March 23rd, National Puppy Day celebrates the unconditional love and affection puppies bring to our lives. Their cuddles and wiggles make us smile and without a doubt, there are squeals of delight when there are puppies around!
The day also brings awareness to the need for care of and homes for orphaned pups as well as to educate people about the horrors of puppy mills across the country. Puppies are a big responsibility. Be sure to consider everything involved and adopt from a shelter. The puppies there need love and a home just as much as any other and they grow into loyal pets, too!
According to the ASPCA, approximately 3.3 million dogs enter shelters every year. Some of these dogs come with litters of puppies. If you're seeking a puppy to start your furry family, check the shelters first. When these abandoned and abused animals find their way to a shelter, each one needs a forever home and their potential is limitless.
NATIONAL PUPPY DAY HISTORY
National Puppy Day was founded in 2006 by Pet Lifestyle Expert, Animal Behaviorist and Author, Colleen Paige. Paige is also the founder of National Dog Day and National Cat Day.