Be careful out there with this full moon! It's already started here.... I got a robo call just after 6am! Grrrrrrrrrrrrrr..............
Yesterday, again, we started out in the 40ºs and topped at 87º.
Picture of the Day .... hmmmmmmmmmm...... buddies!
Interesting about Colonel Sanders....
Colonel

Harland David Sanders

(September 9, 1890 – December 16, 1980) was an American businessman, best known for founding fast food chicken restaurant chain

Kentucky Fried Chicken

(also known as KFC) and later acting as the company's

brand ambassador

and symbol. His name and image are still symbols of the company. The title 'colonel' was honorary – a

Kentucky Colonel

– not the military rank.
In the midst of the depression, Harland Sanders opened his first restaurant in the front room of a Shell gas station in Corbin, Kentucky where he served as station operator, cook, and cashier. Word got out about his chicken, and travelers looking to fill up their stomachs (and their gas tanks) started to flock to his service station. Over the next several years, his meals became famous in Kentucky, and he continued his mission to perfect his fried chicken. In 1936, Sanders was honored with the title of "Kentucky Colonel" by the state's governor. By branding himself as "Colonel Sanders", Harland became a prominent figure of American cultural history.
During that time Sanders developed his "secret recipe" and his patented method of cooking chicken in a
pressure fryer
. Sanders recognized the potential of the restaurant
franchising
concept, and the first KFC franchise opened in
South Salt Lake, Utah
in 1952. When his original restaurant closed, he devoted himself full-time to franchising his fried chicken throughout the country.
The company's rapid expansion across the United States and overseas became overwhelming for Sanders. In 1964, then 73 years old, he sold the company to a group of investors led by John Y. Brown Jr. and Jack C. Massey for $2 million ($16.5 million today). However, he retained control of operations in Canada, and he became a salaried brand ambassador for Kentucky Fried Chicken. In his later years, he became highly critical of the food served by KFC restaurants, as he believed they had cut costs and allowed quality to deteriorate.
From the Slow Roasted Italian...
PO' BOY SHRIMP PASTA SALAD
Your favorite Shrimp Po Boy Sandwich turned into sensational Po Boy Shrimp Pasta Salad with Creamy Remoulade Dressing! It doesn't get more crowd pleasing addicting than this creamy, hearty, spicy, juicy shrimp pasta salad!
Pasta Salad
20 oz. cheese tortellini

1 ½ pounds medium shelled, deveined shrimp, tails on

1 tablespoon olive oil

1 tablespoon Cajun seasoning

1 pint cherry tomatoes, halved

2/3 cup chopped Dill pickles

¼ of a small red onion, thinly sliced

2 cups packed roughly chopped romaine lettuce
Remoulade Dressing
2/3 cup mayonnaise

1/3 cup olive oil

1 tablespoon Dijon mustard

1 tablespoon horseradish

1 tablespoon lemon juice

1 1/2 teaspoons pickle juice (from Dill pickles above)

½ teaspoon Cajun seasoning

Hot sauce to taste (optional)
Whisk together all of the Remoulade Dressing ingredients in a medium bowl. Cover and refrigerate until ready to use.

Add shrimp to a medium bowl. Toss with 1 tablespoon olive oil and 1 tablespoon Cajun seasoning. Let sit at room temperature while you prep your other ingredients and cook your pasta.

Bring a large pot of water to a boil. Cook tortellini according to directions on the package (do not add salt to the water). Rinse with cool water and drain, then add to a large bowl. Toss with a little of the Dressing to keep it from sticking together. Set aside.

Heat 1 tablespoon olive oil in a large non-stick pan over medium-high heat. Add half of the shrimp in an even layer and cook 2 minutes, then flip shrimp over and cook another 2 minutes or until cooked through. Repeat with remaining shrimp. Once cool enough to handle, remove tails from shrimp.

Combine salad ingredients in a large bowl. Pour desired amount of dressing over salad and gently toss with salad tongs until well coated. Add salt, pepper and/or hot sauce to taste.
COOK'S NOTES
If you are traveling with this salad or making it ahead, layer it in the order listed (the first ingredient goes in the bottom of the bowl, etc). Travel with the dressing separately and add it once you are ready to serve it to keep salad perfectly crisp.
Historically this date.....
2012 – The Governor of Wisconsin, Scott Walker, becomes the first U.S. Governor to survive a recall election.
And births this date include...
My Scottish grandparents were "kicked" out of Mexico by Villa's men, because they weren't citizens of Mexico ... but they posed for pictures! My mother on the left, uncle in the middle, and aunt on the right. Grandfather was a mining engineer at the Cananea gold mine. This taken 1910...
That's me in my Hoppy outfit! LOVED Hopalong Cassidy!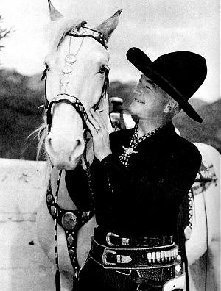 1919 – Richard Scarry, American author and illustrator (d. 1994) I bought his books for my children...
All I know. Nuff said. Happy Friday. Ciao.
Each year on the first Friday in June, people participate in National Doughnut or Donut Day, celebrating the doughnut and honoring the Salvation Army Lassies. The Salvation Army Lassies are the women who served doughnuts to soldiers during WWI.
In 1917, the original "Salvation Army Doughnut" was first served by the ladies of the Salvation Army. It was during WWI that the Salvation Army Lassies went to the front lines of Europe. Home-cooked foods, provided by these brave volunteers, were a morale boost to the troops.
The doughnuts were often cooked in oil inside the metal helmets of American soldiers. American infantrymen were then commonly called "doughboys." A more standard spelling of the word is "donut."
On this day, many bakeries and coffee shops in the United States offer doughnut deals to their customers.
Celebrate the day by enjoying your favorite doughnut. There are many varieties of doughnuts to choose from, too! Whether you prefer glazed or creme-filled, holes, or any number of deliciously made doughnuts, get out there and support your local bakeries. Pick up a dozen to deliver to first responders, a nursing station, or your favorite charity.
The Salvation Army created National Doughnut Day in 1938 to honor the women who served the doughnuts to soldiers in
World War I. This day began as a fund-raiser for Chicago's Salvation Army. The goal of their 1938 fund-raiser was to help the needy during the Great Depression.